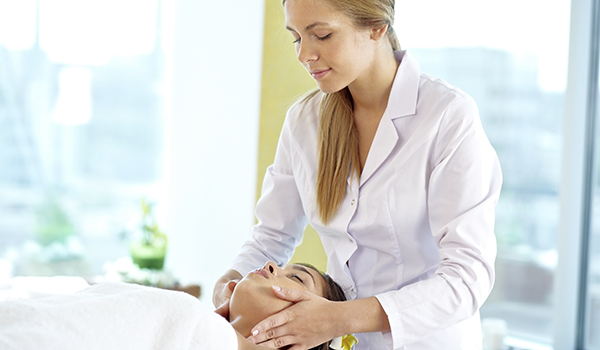 The Benefits Of A Massage Therapy Career
Massage therapy is a rewarding career with many fantastic benefits.  Ask yourself these questions when deciding on whether or not to pursue a career in massage therapy:
Would you be interested in a job with a flexible schedule? 

Would you appreciate the opportunity to work with and help people? 

Do you enjoy working in a serene environment? 
If you answered "yes" to these questions, then being a massage therapist could your perfect fit! 
In addition to potentially having a flexible schedule and working in a variety of settings, a career in massage therapy could also provide you with a new lifestyle. The Bureau of Labor Statistics reports massage therapists make an average salary of more than $40,000 per year. To get started on your massage therapy career path, attend a massage therapy program taught by seasoned therapists. Once your education is complete, you'll then need to get your license. After that, it's up to you to find the career path that best fits your life and goals! 
Your Future In Massage Therapy
There are many ways to pursue your massage therapy career after you get your license. You can impact people's lives and well-being in so many ways! But how? Here are ten different ways you could make a career with your massage therapy license:
Traditional Massage Facilities:

Massage facilities are popping up all over the country! Because of that, massage therapy is one of the fastest-growing careers in the United States. No matter where you live, you should be able to find a spa where you can put your skills to good use.

Private Practice/Work For Yourself:

While working in a spa or salon can mean a steady stream of clients, many people prefer the freedom of working for themselves. Starting a private massage therapy practice—whether in your own building or traveling to clients—could be a great alternative. It could also allow you to set your own schedule and select your own clients.

Physician's Offices and Hospitals:

Medical offices understand the physical and mental benefits of a relaxing massage. Many are beginning to offer on-site therapy for their patients. These could include concierge doctors' offices as well as physical therapy clinics. 

Health Clubs and Gyms:

There are few things more delightful after a workout than a relaxing massage. Many health club owners understand this and are willing to invest in one. You may have the opportunity to work in an existing program or contact your local fitness center to set up a practice.

Nursing Homes and Hospices:

Eldercare and geriatric services are a noble cause and an in-demand industry. Your massage therapy skills could be greatly valued in a nursing home or hospice. Therapists help the clientele relax and improve their health.

Chiropractic Offices:

Chiropractic services

and massage therapy often can hand in hand. Back pain can be debilitating, and these services can give patients their lives back. Working for a local chiropractor, you may be able to tap into a great client resource. 

Hotels, Spas, and Resorts:

Most hotel guests—whether traveling for business or vacation—are looking for a way to relax and relieve stress. Many hotels, spas, and resorts offer massage as an option to their guests.

On-Site Massage:

Many massage therapists set up chairs at the airport, local events, and in offices. They often get work from weary travelers and employees looking to unwind for a few minutes. On-site massages could also be a great side hustle to supplement your full-time job! 

Sports Teams:

Whether it is a national or regional team, most sports teams have massage therapists on staff to help the players after practice and games.

Become a Massage Therapy Instructor:

You could explore a new aspect of your massage therapy career! After working for a few years, you might decide you want to start teaching others. 
Get Your Massage Therapy License in Pensacola
Massage therapy training offers countless opportunities to our graduates. For example, Pensacola School of Massage Therapy and Health Careers can help you complete your training in only eight months! We also offer day and night classes to help you work around your own schedule. Our staff is committed to getting you on the path to a rewarding career in massage therapy.
Contact us today to learn more about our Massage Therapy program and our other opportunities for students! Schedule an appointment for an interview and to tour Pensacola School of Massage Therapy and Health Careers.