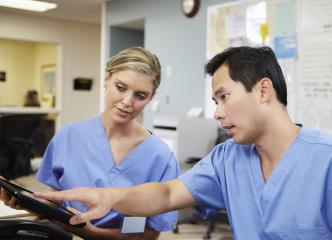 When it comes to your future, you need guidance from professionals who can help you reach the heights you need. Pensacola School of Massage Therapy & Health Careers (PSMTHC) is ready to help you work towards your new future, but how do you work to get there? A good education is the perfect beginning. Discover more about what PSMTHC can do for you and your career. As your choice of the Pensacola schools for health careers, we have you covered.
Our Current Programs
Medical Assistant

. Breaking into the medical field might be easier than you think with our Medical Assistant program. With courses in subjects such as pharmacology, medical lab procedures, communications, and our externship—we know our instructors are providing a well-rounded education to our students. 

Massage Therapy

. Massage may seem cut-and-dry for those who don't know, but massage is actually full of

various different techniques

. As educators, we know how important it is for our students to learn as much as they can about these techniques. That's also why we provide hands-on learning to ensure our instructors can guide students to the fullest.
Unsure about what path you want to take? Try out our career readiness quiz! Taking this quiz could help you decide on what to do with your future.
Additional Services
We provide more than a good education, our school also has extra services to help our students. 
Take our placement services, for example. With our placement services, we put in a special effort to help all graduates find the position they're best suited for. These services include help with your resume, advice for interviews, references, and more.
To those who qualify, our school also offers help to those who are looking to come into the school but can't quite afford it right now. Check out our financial aid services for the help you need. You never know if we have options available to you. Currently, we offer help with the following financial aid options:
Federal Pell Grants

Direct Loans

SEOG

And more!
Trust in PSMTHC
When you're looking into the current Pensacola schools for healthcare careers, you need somebody who is not only interested in your future—they're invested in it. At Pensacola School of Massage Therapy & Health Careers, we work hard so you can have an easier time reaching the career you want. 
Do you have any questions about our programs or school? We're more than happy to help. Just give us a call at 850-780-3963 or contact us online. Let's begin on your education.