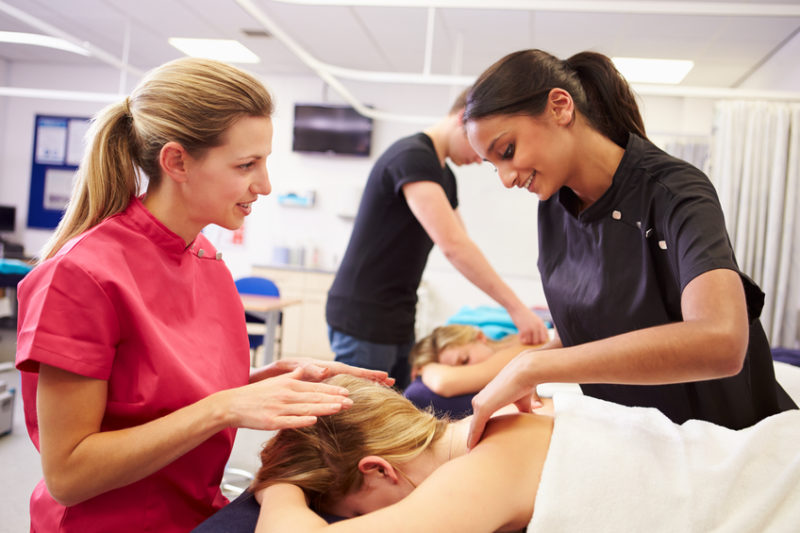 Do you want a career where your passion for helping others is rewarded and respected? Would you like to wake up each morning knowing that you can make a real difference in someone else's life? If so, it's time to consider the life-changing opportunities that career training from Pensacola School of Massage Therapy & Health Careers (PSMTHC) could provide for you! Discover the many advantages that PSMTHC, a career school in Pensacola, could bring to your life. And explore the exciting and fulfilling possibilities that come with our career training programs.
What Our Pensacola Career School Can Offer You
From your very first day as a student at PSMTHC, you can begin learning valuable skills to help you take the next steps toward an exciting new career! Let's explore the two programs currently offered at our Pensacola career school to see which one could be the best choice for you.
Massage Therapy
A career as a massage therapist can be incredibly fulfilling. Massage therapy services make a real difference in people's lives by reducing pain and stress. It's likely why an overwhelming 88% of massage therapists have claimed to be "satisfied" or "very satisfied" with their career. 
Imagine waking up each day knowing that you can have a real, positive impact on the lives of others. PSMTHC's high-quality, affordable courses can provide you with the skills and knowledge to do it in as little as eight months!
Medical Assistant
Our medical assistant program can prepare you for a rewarding career in the healthcare field. Get well-rounded, hands-on career training that may open up exciting clinical and administrative job opportunities in hospitals, clinics, and general practice offices, and more! 
Gain the tools, knowledge, and experience to become an integral part of a team of healthcare professionals. The icing on the cake is that this field is projected to grow by 19% through 2029! That's some great job security, and with our medical assistant program, you can complete your career training in only 7.5 months!
What We Offer Outside of Our Courses
Discover more about PSMTHC and see what we offer our students both inside and outside of the classroom. Yes, out of the classroom as well–we help our students with job placement services that are available at no additional cost to Pensacola School of Massage Therapy & Health Careers graduates. Some of those services include, but are not limited to, help with resumes, employer lists, referrals, and interview advice! If you're still unsure if you are ready to take the next step, take our Career Readiness Quiz!
At our Pensacola career school, we can look up and submit an application for you to see if you qualify for financial aid. Discover more about how we can help you if you qualify. Don't forget to ask about how the CARES Act may benefit you as well.
Today, there is a high demand for massage therapists and healthcare workers. That's why we also have placement services available to help you start your new career. See what we can do for you. 
Join Our Pensacola Career School Today
When you're ready to make a change in your life, enrolling in our career school in Pensacola may be just the opportunity you've been looking for. We're more than happy to help you become the experienced and valuable professional you want to be. 
Do you have any questions about our programs or services? Feel free to give us a call at (850) 474-1330 or send us a message online to get in touch with our professionals. Take the next steps in your career journey today.