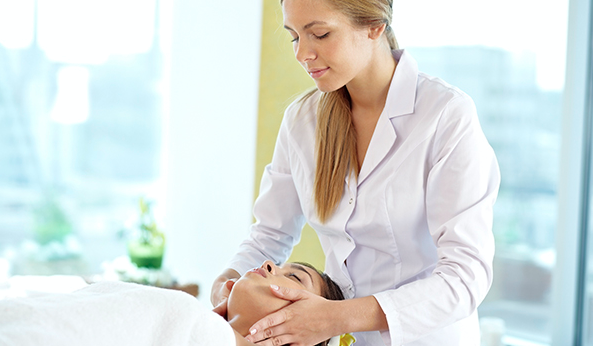 Massage Training Classes
If you're looking for massage training classes, you very likely already know what a massage therapist is. However, if you don't, we can define it for you. A massage therapist is an expert in the manual manipulation of soft body tissues, including muscles, connective tissues, tendons, and ligaments, which is performed in order to improve or enhance a customer's health and well-being.
Massage training classes give a student the opportunity to become a massage therapist. If it sounds appealing, keep reading! What can massage training classes teach me?
Massage Therapy Methods (Or Modalities)
At the Pensacola School of Massage Therapy and Health Careers, massage training classes consist of getting the basics down and then being trained in a number of different modalities or methods. Among these methods are:
Swedish Massage

Sports Massage

Connective Tissue Massage

Neuromuscular Massage

Reflexology

Corporate/Chair Massage

and Spa Therapy
A graduate of the PSMTHC massage therapy school can open doors for themselves by being trained in all of these methods.
What Can Massage Training Classes Teach Me?
The short answer is: many things. Massage therapy classes can teach students about the theory and practice of massage therapy, about how they can train for a new career in just eight months, and how to prepare to take the National Licensure Exam to become a licensed Florida Massage Therapist.
You will also learn all about the different types of massage therapy, when to use them, and why they are most effective. That way, whether you are working in a physical rehabilitation center, a chiropractic clinic, a resort spa, an athletic department, corporate office or your own practice you'll know how to approach the problem with a solution in hand.
Rewarding Work
Massage therapy can be rewarding career. Massage therapists often get the opportunity to really help individuals feel better, whether it's by alleviating stress or working out a physical pain in their muscles.
Choose Pensacola School of Massage Therapy
Are you interested? Want to learn more about our massage training classes? Day classes take only 8 months and you can enroll in day or night classes. If you want to hear more, contact us and talk to an admissions representative today!